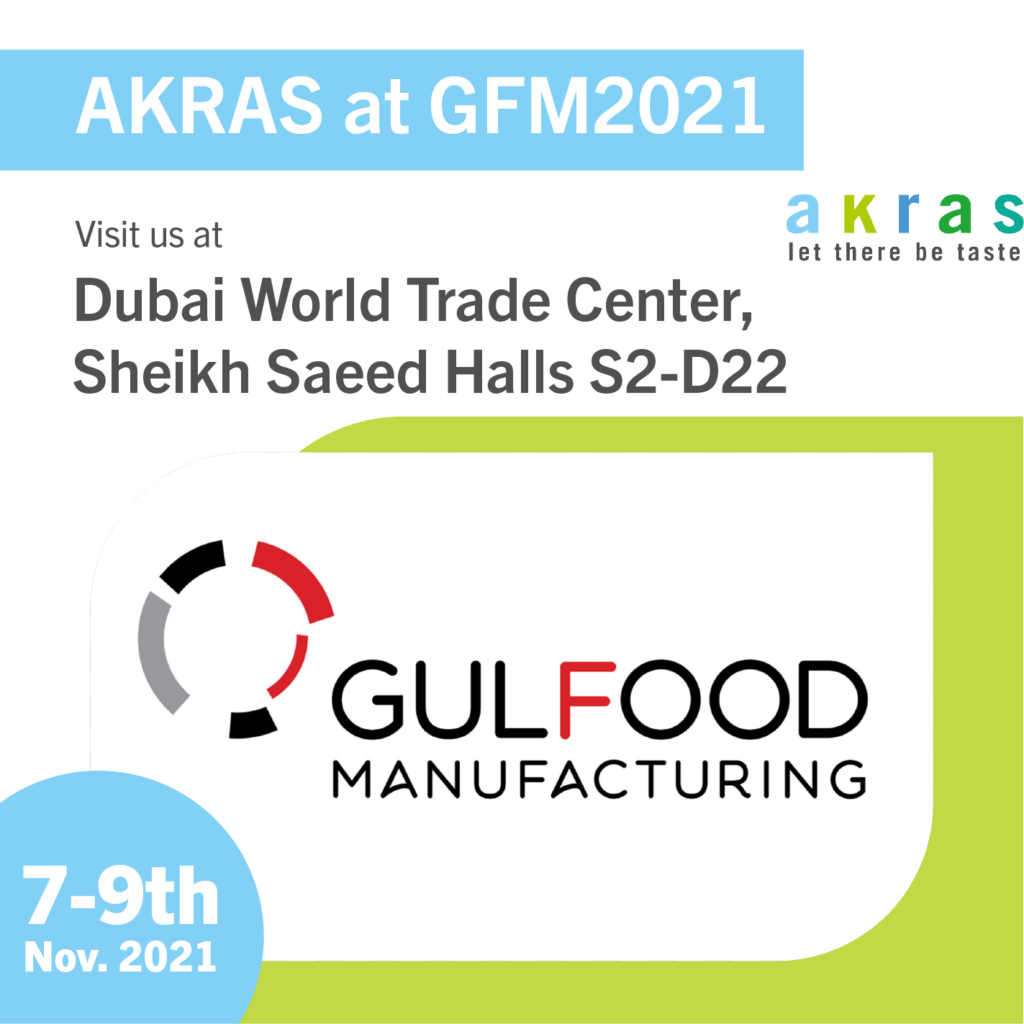 Find AKRAS at Gulfood Manufacturing 2021 in Dubai
November 7th-9th 2021, Dubai World Trade Center
Stand: Sheikh Saeed Halls S2-D22
Taste fascinating flavours in the Middle East
AKRAS will be exhibiting once again at the Gulfood Manufacturing 2021 in Dubai with pioneering products and concepts.
The Gulfood exhibition is regarded as the Middle East´s  largest annual food and beverage trade exhibition with about 1,600 exhibitors from over 60 countries and is taking place at the Dubai World Trade Center from the 7th to 9th November 2021.
The Middle East is a rapidly growing market and what is presented at the Gulfood Manufacturing has a huge impact on what then happens in the market there.
It is needless to say that AKRAS will put up the highest safety conditions on our stand to guarantee our visitors a safe attendance.
The COVID19 pandemic shaped the food and beverage industry immensely. Consumers are seeking for healthier options in general recognizing wellbeing as their vital concern. The trends wellness, physical, mental and emotional health and conscious food consumption have been on the rise for a couple of years now but with the pandemic experiecing exponential growth rates.
Find out more in our clever concept store at our stand!
Going along with the trends, AKRAS developed innovative beverage concepts to present it for for the first time at Gulfood Manufacturing in Dubai. The beverage market is highly competitive and consumers expect solutions that go far beyond good taste. Appealing colour, additional uses and pleasing appearance: consumer requirements for soft drinks are extensive and higher than ever before.
We are showcasing new taste experiences and creations like Zero Sugar Enery Drinks with no compromise in taste, all natural cola beverage, gelatine-free fruity chewy gums and much more.
Join AKRAS at Gulfood Manufacturing 2021 in Dubai from the 7th-9th November and let's experience great taste sensations together!